We love seeing all the wonderful creations the community has made so far. It brings us so much joy to see your excitement!
When promoting your Playdate game or tool on your website, in print, or anywhere else, you may wish to feature Playdate branding to make it clear what platform it is for. Instead of using the Playdate logo, here are some graphics to use as links to your game.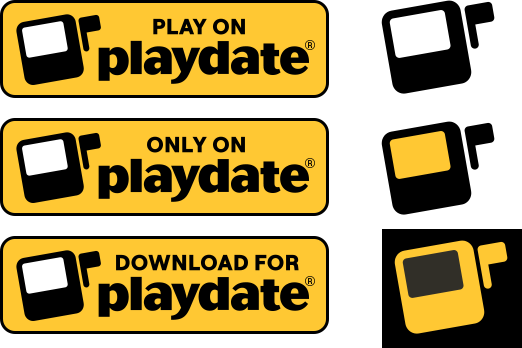 Playdate Badges
The "Play on Playdate" badge should be used to link to Playdate games, wherever they're hosted. Ideally this will be a page with more information about the game.
The "Only on Playdate" badge should be used to link to a game available exclusively on Playdate, and not on any other platform.
The "Download for Playdate" badge should link directly to a game download, ready for players to sideload to their Playdates.
Playdate Glyph Image
The glyph images of the Playdate can be used to label Playdate-related games, products, and projects.
The yellow glyph image should be used on very dark backgrounds.
You can download a ZIP archive of these images in multiple formats here:
Playdate Link Badges.zip (62 KB)
Please read before using Playdate Badges or Glyphs
The Playdate Badges and Glyph Images can be used in advertising and marketing communications and on websites to promote software that has been optimized or developed for Playdate.
Don't feature our graphics in a manner that could cause your site to be mistaken for an official Playdate site.
Don't feature our graphics in a manner that may imply that any non-Panic materials are sponsored, endorsed, licensed by, or affiliated with Panic.
Don't use our graphics or any of its features in conjunction with content that is graphically violent, illegal, sexist, racist, or otherwise offensive.
You may not edit or alter our logo in any way that distorts the appearance.
Don't place anything distracting behind or in front of our imagery; don't otherwise overlap graphics with our logo.
Don't create a graphic that imitates, or is similar to, our logo.
We reserve the (unlikely) right to request that you modify or delete any use of the Playdate Badges or Glyph Images. We may modify this article at any time.
Thank you so much for understanding. Let us know if you have any concerns.
If you have questions about this, please contact support@play.date.